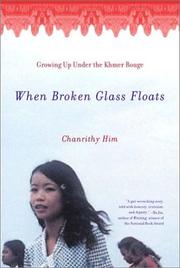 YA Box 22871 When Broken Glass Floats
When broken glass floats : growing up under the Khmer Rouge : a memoir
New York : W.W. Norton, 2001, c2000.
330 p. : ill., geneal. table, map ; 21 cm.
A memoir in which the author discusses her experiences as a child living in Cambodia under the brutal Khmer Rouge, and tells of the hardships her family experienced until being brought to the United States by an uncle who was living in Oregon.
Available
Boxed sets for classroom use
22 copies available at Innovation Academy Charter School
| Field | Ind | Subfield | Data |
| --- | --- | --- | --- |
| 001 Control No | | | 9583 |
| 005 LastTransaction | | | 20190723135833.0 |
| 008 Data Elements | | | 010816t20012000nyuabj 000 0aeng d |
| 020 ISBN | | $a ISBN | 978-0-393-32210-1 |
| 035 System Ctrl No | | $a System control number | (IMchF)fol08240193 |
| 035 System Ctrl No | | $a System control number | (NKSD)226747 |
| 035 System Ctrl No | | $a System control number | (RICAT)92953 |
| 040 Cataloging Src | | $a Original cataloging agency | ICrlF |
| | | $c Transcribing agency | ICrlF |
| | | $d Modifying agency | ICrlF |
| 043 GAC | | $a Geographic area code | a-cb--- |
| | | $a Geographic area code | n-us--- |
| 050 LC Call No | 00 | $a Classification number | DS554.83.H56 |
| | | $b Item number | A3 2001 |
| 082 Dewey Class No | 00 | $a Classification number | 959.604/2/092 |
| | | $a Classification number | B |
| | | $2 Edition number | 21 |
| 100 ME:PersonalName | 1 | $a Personal name | Him, Chanrithy, |
| | | $d Dates associated with a name | 1965- |
| 245 Title | 10 | $a Title | When broken glass floats : |
| | | $b Remainder of title | growing up under the Khmer Rouge : a memoir / |
| | | $c Statement of responsibility | Chanrithy Him. |
| 260 PublicationInfo | | $a Place of publication, dist. | New York : |
| | | $b Name of publisher, dist, etc | W.W. Norton, |
| | | $c Date of publication, dist, etc | 2001, c2000. |
| 300 Physical Desc | | $a Extent | 330 p. : |
| | | $b Other physical details | ill., geneal. table, map ; |
| | | $c Dimensions | 21 cm. |
| 520 Summary | | $a Summary, etc. note | A memoir in which the author discusses her experiences as a child living in Cambodia under the brutal Khmer Rouge, and tells of the hardships her family experienced until being brought to the United States by an uncle who was living in Oregon. |
| 600 Subj:Name | 10 | $a Personal name | Him, Chanrithy, |
| | | $d Dates associated | 1965- |
| 600 Subj:Name | 17 | $a Personal name | Him, Chanrithy, |
| | | $d Dates associated | 1965- |
| | | $2 Source of heading or term | sears. |
| 650 Subj:Topic | 0 | $a Topical term | Political refugees |
| | | $z Geographic subdivision | Cambodia |
| | | $v Form subdivision | Biography. |
| 650 Subj:Topic | 0 | $a Topical term | Political refugees |
| | | $z Geographic subdivision | United States |
| | | $v Form subdivision | Biography. |
| 650 Subj:Topic | 0 | $a Topical term | Political atrocities |
| | | $z Geographic subdivision | Cambodia. |
| 650 Subj:Topic | 7 | $a Topical term | Political refugees |
| | | $z Geographic subdivision | Cambodia |
| | | $v Form subdivision | Biography. |
| | | $2 Source of heading or term | sears |
| 650 Subj:Topic | 7 | $a Topical term | Political refugees |
| | | $z Geographic subdivision | United States |
| | | $v Form subdivision | Biography. |
| | | $2 Source of heading or term | sears |
| 650 Subj:Topic | 7 | $a Topical term | Atrocities |
| | | $z Geographic subdivision | Cambodia. |
| | | $2 Source of heading or term | sears. |
| 651 Subj:Geog | 0 | $a Geographic name | Cambodia |
| | | $x General subdivision | Politics and government |
| | | $y Chronological subdivision | 1975-1979. |
| 651 Subj:Geog | 7 | $a Geographic name | Cambodia |
| | | $x General subdivision | Politics and government. |
| | | $2 Source of heading or term | sears. |
| 852 Holdings | | $a Location | MMCPS |
| | | $h Classification part | Kit YA Box 22871 When Broken Glass Floats |
| | | $p Barcode | 30001000228710 |
| | | $9 Cost | $0.00 |
| 852 Holdings | | $a Location | MMCPS |
| | | $h Classification part | YA Box 22871 When Broken Glass Floats |
| | | $p Barcode | 30001000228728 |
| | | $9 Cost | $0.00 |
| 852 Holdings | | $a Location | MMCPS |
| | | $h Classification part | YA Box 22871 When Broken Glass Floats |
| | | $p Barcode | 30001000228736 |
| | | $9 Cost | $0.00 |
| 852 Holdings | | $a Location | MMCPS |
| | | $h Classification part | YA Box 22871 When Broken Glass Floats |
| | | $p Barcode | 30001000228744 |
| | | $9 Cost | $0.00 |
| 852 Holdings | | $a Location | MMCPS |
| | | $h Classification part | YA Box 22871 When Broken Glass Floats |
| | | $p Barcode | 30001000228751 |
| | | $9 Cost | $0.00 |
| 852 Holdings | | $a Location | MMCPS |
| | | $h Classification part | YA Box 22871 When Broken Glass Floats |
| | | $p Barcode | 30001000228769 |
| | | $9 Cost | $0.00 |
| 852 Holdings | | $a Location | MMCPS |
| | | $h Classification part | YA Box 22871 When Broken Glass Floats |
| | | $p Barcode | 30001000228777 |
| | | $9 Cost | $0.00 |
| 852 Holdings | | $a Location | MMCPS |
| | | $h Classification part | YA Box 22871 When Broken Glass Floats |
| | | $p Barcode | 30001000228785 |
| | | $9 Cost | $0.00 |
| 852 Holdings | | $a Location | MMCPS |
| | | $h Classification part | YA Box 22871 When Broken Glass Floats |
| | | $p Barcode | 30001000228793 |
| | | $9 Cost | $0.00 |
| 852 Holdings | | $a Location | MMCPS |
| | | $h Classification part | YA Box 22871 When Broken Glass Floats |
| | | $p Barcode | 30001000228801 |
| | | $9 Cost | $0.00 |
| 852 Holdings | | $a Location | MMCPS |
| | | $h Classification part | YA Box 22871 When Broken Glass Floats |
| | | $p Barcode | 30001000228819 |
| | | $9 Cost | $0.00 |
| 852 Holdings | | $a Location | MMCPS |
| | | $h Classification part | YA Box 22871 When Broken Glass Floats |
| | | $p Barcode | 30001000228827 |
| | | $9 Cost | $0.00 |
| 852 Holdings | | $a Location | MMCPS |
| | | $h Classification part | YA Box 22871 When Broken Glass Floats |
| | | $p Barcode | 30001000228835 |
| | | $9 Cost | $0.00 |
| 852 Holdings | | $a Location | MMCPS |
| | | $h Classification part | YA Box 22871 When Broken Glass Floats |
| | | $p Barcode | 30001000228843 |
| | | $9 Cost | $0.00 |
| 852 Holdings | | $a Location | MMCPS |
| | | $h Classification part | YA Box 22871 When Broken Glass Floats |
| | | $p Barcode | 30001000231839 |
| | | $9 Cost | $0.00 |
| 852 Holdings | | $a Location | MMCPS |
| | | $h Classification part | YA Box 22871 When Broken Glass Floats |
| | | $p Barcode | 30001000231847 |
| | | $9 Cost | $0.00 |
| 852 Holdings | | $a Location | MMCPS |
| | | $h Classification part | YA Box 22871 When Broken Glass Floats |
| | | $p Barcode | 30001000231854 |
| | | $9 Cost | $0.00 |
| 852 Holdings | | $a Location | MMCPS |
| | | $h Classification part | YA Box 22871 When Broken Glass Floats |
| | | $p Barcode | 30001000231862 |
| | | $9 Cost | $0.00 |
| 852 Holdings | | $a Location | MMCPS |
| | | $h Classification part | YA Box 22871 When Broken Glass Floats |
| | | $p Barcode | 30001000231870 |
| | | $9 Cost | $0.00 |
| 852 Holdings | | $a Location | MMCPS |
| | | $h Classification part | YA Box 22871 When Broken Glass Floats |
| | | $p Barcode | 30001000231888 |
| | | $9 Cost | $0.00 |
| 852 Holdings | | $a Location | MMCPS |
| | | $h Classification part | YA Box 22871 When Broken Glass Floats |
| | | $p Barcode | 30001000233314 |
| | | $9 Cost | $0.00 |
| 852 Holdings | | $a Location | MMCPS |
| | | $h Classification part | YA Box 22871 When Broken Glass Floats |
| | | $p Barcode | 30001000233322 |
| | | $9 Cost | $0.00 |
| 852 Holdings | | $a Location | MMCPS |
| | | $h Classification part | YA Box 22871 When Broken Glass Floats |
| | | $p Barcode | 30001000252637 |
| | | $9 Cost | $0.00 |
| 856 ElectronicLocat | 4 | $3 Materials specified | Cover image |
| | | $u Uniform Resource Identifier | https://covers.openlibrary.org/b/id/250183-M.jpg |