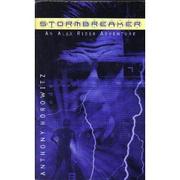 Box 8448
Stormbreaker : Alex Rider Book 1 : An Alex Rider Adventure
New York, NY : Puffin Books, 2000.
192 pages : paperback.
They told him his uncle Ian died in a car accident. But fourteen year-old Alex Rider knows that's a lie, and the bullet holes in his uncle's windshield confirm his suspicions. Bur nothing prepares him for the news that the uncle he always thought he knew was really a spy for MI6-Britain's top secret intelligence agency. Recruited to find his uncle's killers and complete Ian's final mission, Alex suddenly finds himself caught in a deadly game of car and mouse, with no way out.
Available
Boxed sets for classroom use
27 copies available at Innovation Academy Charter School
| Field | Ind | Subfield | Data |
| --- | --- | --- | --- |
| 001 Control No | | | 969 |
| 005 LastTransaction | | | 20201119135234.0 |
| 008 Data Elements | | | 020403s19uu 000 0 eng d |
| 020 ISBN | | $a ISBN | 978-0-698-11932-1 |
| 035 System Ctrl No | | $a System control number | zaccp2 b16466846 |
| 040 Cataloging Src | | $a Original cataloging agency | PaYkWYA |
| | | $c Transcribing agency | PaYkWYA |
| | | $d Modifying agency | PaYkWYA |
| 100 ME:PersonalName | 1 | $a Personal name | Horowitz, Anthony. |
| 245 Title | 10 | $a Title | Stormbreaker : Alex Rider Book 1 : |
| | | $b Remainder of title | An Alex Rider Adventure. |
| 260 PublicationInfo | | $a Place of publication, dist. | New York, NY : |
| | | $b Name of publisher, dist, etc | Puffin Books, |
| | | $c Date of publication, dist, etc | 2000. |
| 300 Physical Desc | | $a Extent | 192 pages : |
| | | $b Other physical details | paperback. |
| 520 Summary | | $a Summary, etc. note | They told him his uncle Ian died in a car accident. But fourteen year-old Alex Rider knows that's a lie, and the bullet holes in his uncle's windshield confirm his suspicions. Bur nothing prepares him for the news that the uncle he always thought he knew was really a spy for MI6-Britain's top secret intelligence agency. Recruited to find his uncle's killers and complete Ian's final mission, Alex suddenly finds himself caught in a deadly game of car and mouse, with no way out. |
| 650 Subj:Topic | 7 | $a Topical term | Spies - fiction |
| | | $2 Source of heading or term | sears. |
| 650 Subj:Topic | 7 | $a Topical term | Terrorism - fiction |
| | | $2 Source of heading or term | sears. |
| 650 Subj:Topic | 7 | $a Topical term | Orphans - fiction |
| | | $2 Source of heading or term | sears. |
| 650 Subj:Topic | 7 | $a Topical term | England - fiction |
| | | $2 Source of heading or term | sears. |
| 852 Holdings | | $a Location | MMCPS |
| | | $h Classification part | F Hor |
| | | $p Barcode | 30001000010753 |
| | | $9 Cost | $0.00 |
| 852 Holdings | | $p Barcode | 30001000076515 |
| | | $a Location | MMCPS |
| | | $h Classification part | Box 8448 |
| | | $9 Cost | $0.00 |
| | | $i Item part | 15 copies |
| | | $b Sublocation or collection | 15 copies in teacher's lounge |
| 852 Holdings | | $p Barcode | 30001000076614 |
| | | $a Location | MMCPS |
| | | $h Classification part | Box 8448 |
| | | $9 Cost | $0.00 |
| 852 Holdings | | $a Location | MMCPS |
| | | $h Classification part | Box 8448 |
| | | $p Barcode | 30001000076622 |
| | | $9 Cost | $0.00 |
| 852 Holdings | | $a Location | MMCPS |
| | | $h Classification part | Box 8448 |
| | | $p Barcode | 30001000076630 |
| | | $9 Cost | $0.00 |
| 852 Holdings | | $a Location | MMCPS |
| | | $h Classification part | Box 8448 |
| | | $p Barcode | 30001000076648 |
| | | $9 Cost | $0.00 |
| 852 Holdings | | $a Location | MMCPS |
| | | $h Classification part | Box 8448 |
| | | $p Barcode | 30001000076531 |
| | | $9 Cost | $0.00 |
| 852 Holdings | | $a Location | MMCPS |
| | | $h Classification part | Box 8448 |
| | | $p Barcode | 30001000076549 |
| | | $9 Cost | $0.00 |
| 852 Holdings | | $a Location | MMCPS |
| | | $h Classification part | Box 8448 |
| | | $p Barcode | 30001000076556 |
| | | $9 Cost | $0.00 |
| 852 Holdings | | $a Location | MMCPS |
| | | $h Classification part | Box 8448 |
| | | $p Barcode | 30001000076564 |
| | | $9 Cost | $0.00 |
| 852 Holdings | | $a Location | MMCPS |
| | | $h Classification part | Box 8448 |
| | | $p Barcode | 30001000076572 |
| | | $9 Cost | $0.00 |
| 852 Holdings | | $a Location | MMCPS |
| | | $h Classification part | Box 8448 |
| | | $p Barcode | 30001000076580 |
| | | $9 Cost | $0.00 |
| 852 Holdings | | $a Location | MMCPS |
| | | $h Classification part | Box 8448 |
| | | $p Barcode | 30001000076598 |
| | | $9 Cost | $0.00 |
| 852 Holdings | | $a Location | MMCPS |
| | | $h Classification part | Box 8448 |
| | | $p Barcode | 30001000076606 |
| | | $9 Cost | $0.00 |
| 852 Holdings | | $a Location | MMCPS |
| | | $h Classification part | Box 8448 |
| | | $p Barcode | 30001000076523 |
| | | $9 Cost | $0.00 |
| 852 Holdings | | $a Location | MMCPS |
| | | $h Classification part | Box 8448 |
| | | $p Barcode | 30001000084477 |
| | | $9 Cost | $0.00 |
| 852 Holdings | | $a Location | MMCPS |
| | | $h Classification part | Box 8448 |
| | | $p Barcode | 30001000141319 |
| | | $9 Cost | $0.00 |
| 852 Holdings | | $a Location | MMCPS |
| | | $h Classification part | Box 8448 |
| | | $p Barcode | 30001000252702 |
| | | $9 Cost | $0.00 |
| 852 Holdings | | $a Location | MMCPS |
| | | $h Classification part | Box 8448 |
| | | $p Barcode | 30001000252710 |
| | | $9 Cost | $0.00 |
| 852 Holdings | | $a Location | MMCPS |
| | | $h Classification part | Box 8448 |
| | | $p Barcode | 30001000252728 |
| | | $9 Cost | $0.00 |
| 852 Holdings | | $a Location | MMCPS |
| | | $h Classification part | Box 8448 |
| | | $p Barcode | 30001000252736 |
| | | $9 Cost | $0.00 |
| 852 Holdings | | $a Location | MMCPS |
| | | $h Classification part | Box 8448 |
| | | $p Barcode | 30001000264004 |
| | | $9 Cost | $0.00 |
| 852 Holdings | | $a Location | MMCPS |
| | | $h Classification part | Box 8448 |
| | | $p Barcode | 30001000264012 |
| | | $9 Cost | $0.00 |
| 852 Holdings | | $a Location | MMCPS |
| | | $h Classification part | Box 8448 |
| | | $p Barcode | 30001000264020 |
| | | $9 Cost | $0.00 |
| 852 Holdings | | $a Location | MMCPS |
| | | $h Classification part | Box 8448 |
| | | $p Barcode | 30001000264038 |
| | | $9 Cost | $0.00 |
| 852 Holdings | | $a Location | MMCPS |
| | | $h Classification part | Box 8448 |
| | | $p Barcode | 30001000267387 |
| | | $9 Cost | $0.00 |
| 852 Holdings | | $a Location | MMCPS |
| | | $h Classification part | Box 8448 |
| | | $p Barcode | 30001000271934 |
| | | $9 Cost | $0.00 |
| 852 Holdings | | $a Location | MMCPS |
| | | $h Classification part | Box 8448 |
| | | $p Barcode | 30001000274276 |
| | | $9 Cost | $0.00 |
| 856 ElectronicLocat | 4 | $3 Materials specified | Cover image |
| | | $u Uniform Resource Identifier | https://covers.openlibrary.org/b/id/6451044-M.jpg |
Editorial Reviews